Micros Set 3
Item Details
|
Reviews
(
1
)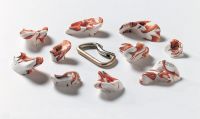 Description
One of the most popular Micros sets ever! These small finger buckets allow just enough room to match on them and provide awesome workouts at a low price. Great as footholds but fantastic for overhanging strength training.
1 Review
Review
Review by: okie_redneck, 2004-06-21
Nicros put just as much thought into these things as their larger holds. If things get boring, close your eyes, spin them, and you've got something totally usable and new. I thought I was getting a deal on some other holds, but they were totally inferior. Buy these holds.