Morganic Climbing Holds (small)
Item Details
|
Reviews
(
4
)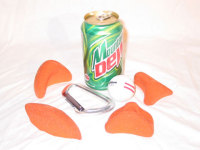 Description
resin climbing holds with a soft soap like texture.
4 Reviews
Review
Review by: pcutts, 2006-06-02
These holds have great texture, and are pretty easy on the tendons. I think that they hold thair texture better than any other holds. Definitaly the best holds that I've used
Review
Review by: jookyhead, 2004-05-12
All around, I love these holds. For the price, there's no better. Only complaint is that I've had the texture go away after only 2 days use when used as footholds. Still love 'em.
Review
Review by: tyify, 2004-05-02
I have a ton of these holds and love them to death. They keep their texture longer without having to be washed than my metolious holds. They are pretty tendon friendly and have really only had a problem once. For the price they can't be beat.
Review
Review by: geckoee, 2003-08-05
Even the small holds are pretty bomber. I like the soft texture. It's very comfortable to hold compared to other brands I've pulled on. Most of the holds are pretty juggy, but the small ones seem to be made for a smaller hand. You can't quite get four fingers in there comfortable.
My only concern is that even though the hold sticks out of the wall pretty far the bolt is reassessed pretty deep. This makes it look like they may break.