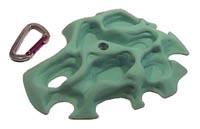 Manufacturer:
Cheap Holds



This item may be available at:
Description
As close to pocketed sandstone as it gets. This one will keep you guessing with many features to choose from. Some pockets are slightly incut making this a positve hold even on overhanging walls. Measures 12"x9"x2.5".--Cheap Holds

1 Review
Review
Review by: lexmark, 2003-10-14
Another great hold. There are myriad pinch variations on this hold and it isn't that juggy. Again, this hold works well on a very steep (45 degree to roof) wall.