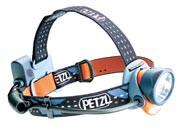 Manufacturer:
Petzl



This item may be available at:
Description
The Myo 5 is intended for demanding users whose needs alternate between long-range lighting and extended battery life. The rotating bezel switch allows easy selection between the three brightness settings (LED), or distance vision (Xenon halogen bulb). In this way, the user can adapt the lighting level to the activity. Ideal for mountaineers, adventure racers, or anyone moving quickly under variable lighting conditions. The three lighting levels (LED) are regulated by an electronic system:

an optimum level, ideal for walking or general use
a maximum level, ideal for climbing or moving quickly on technical ground
an economy level, ideal for reading maps, setting up a tent...

When the batteries are almost completely discharged, the system switches to reserve power mode, providing proximity lighting and greatly extending burn time.

Specs :

Maximum range 100 m (Xenon halogen bulb), 15 m (5 LEDs with 3 power levels)
Supplied with spare 6 V Xenon halogen bulb
Operates with 4 AA alkaline batteries (included).
138 g (without batteries).--Petzl


2 Reviews
Review
Review by: thetroutscout, 2006-02-06
I've used this while climbing, caving, downpour, while night hiking and skiing. Don't let the lack of waterproofness fool you. In order for a lamp to meet Petzl's full waterproof requirement it has to be fully submerible for a length of time. I've used mine in the rain and snow and even dropped in a river while fishing and haven't had any problems. The halogen bulbs puts of an amazing focusable spot and is great for skiing or biking at night. The brightest LED setting is more than enough for hiking or general camp stuff. I usually leave it on the normal setting for most camp chores and read with it on the lowest setting. The battery pack carries an A battery more than most other brands but that extra weight translates into more burn time. Usually when it's cold I'll strap on a hand warmer to the battery pack and that helps reduce battery wear. There is a Myo 5 verions where the battery pack could be carried on the belt or in a pocket.

The lamp fits well. The middle strap helps stabilize the unit over your head. For climbing or caving it fits perfectly on my Petzl Elios Helmet.

I've had mine for a 1 1/2 years and has proved to be very durable. I can toss into my pack and know it's not going to get broken. I haven't had to chance any bulbs, but I like have spairs with the lamp.

This is a great headlamp. If I could afford it I would give one to all my friends.
Review
Review by: russman, 2004-02-29
Havn't had teh chance to use it outdoors yet, but it works great to read the newspaper in the evenings after the kids are asleep and you dont' want the lights on in the house