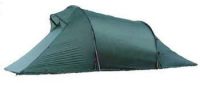 Manufacturer:
Hilleberg



This item may be available at:
Description
Available in three sizes -
2 person: $460.00
3 person: $495.00
4 person: $570.00
Our Nallo 2 deserves the utmost attention when weight is of foremost importance to you when seeking a tent for 2 people. With our Kerlon 1200 it is the lightest tent on the market in regards to the synthesis of low weight, strength and ergonomics! The Nallo has been designed to make the most of size and space at the lowest weight possible – with all the quality features of a Hilleberg tent.
Its profile of a higher pole at the entrance gives offers space and room where it is needed most and a lower pole at the foot end helps reduce weight. Because of the different lengths of the poles we have colour-coded them to avoid confusion when pitching the Nallo.
This tent is most suitable for year around trips into the hills. People also appreciate its low weight, small packed size and ease of handling on endurance races and overland travel. A true allrounder where weight is the prime issue!
For the best ventilation the foot end of the outer tent should be pulled taut with the attached guy lines: the outer tent comes off the ground, allowing a draft along the inner tent to reduce possible condensation.
When choosing a Nallo your equipment is taking a clear turn towards low weight, flexibility and speed: the ultra-light option for wilderness travel.
OUTER TENT FABRIC: KERLON 1200
COLOURS: GREEN AND RED
* Min. weight: 1.7 kg / 3 lbs 11 oz ~ Packed weight: 2.1 kg / 4 lbs 10 oz (Minimum weight includes inner tent, outer tent and poles while packed weight refers to the complete tent)
A complete tent consists of inner and outer tent with guy lines and runners, poles, pegs, stuff bags, spare pole section, repair sleeve and instructions.
* inner tent height: 40 inches ~ area inner tent: 30.1 ft² ~ area vestibule: 15 ft²
NALLO ADVANTAGE:
~ Outer tent fabric in Kerlon 1200.
~ Inner tent fabric in water repellent and venting nylon.
~ Strong nylon ground sheet with PU coating, high bathtub floor.
~ Pole sleeves with one opening only with room for "double poling".
~ Pole tensioners wide enough for "double poling".
~ Adjustable peg loops.
~ Full size no-see-um netting in inner tent entrance (with covering panel).
~ Spacious vestibule for (wet) gear and the preparation of food.
~ Vertical inner tent entrance with full size no-see-um mesh.
~ Outer tent vent of water repellent and snow proof fabric under cover can be closed completely.
~ Linked inner and outer tents pitch simultaneously – both can also be pitched separately.
~ Two strong guy line attachments and double line runners on each side of pole sleeve.
~ Clothes line and inner pockets in the inner tent.
INNER TENT: Pitching of inner tent requires extra pole holders - see accessories.
Nallo is a characteristic peak in the swedish mountain range of Kebnekaise
Equipment
Poles: Aluminum 9 mm dia.
Pole lengths: 1 x 102.4 in. (260 cm), 1 x 120.1 in. (305 cm)
Pegs: 13
Stuffbag, pole bag, peg bag, guy lines, line runners, spare pole section, pole repair sleeve, instructions.
1 Review
Review
Review by: masserin, 2005-10-19
If your mantra is lighter is righter on lengthy approachs, then this tent is it. Excellent contstruction, so much better than my other tents (4 or 5). The attention to detail is readily apparent, hardened bushings in the pole sections to prevent cracking, tensioning devices that can be used with gloves on, two way door zips, etc. All the guides that saw it in the Pacific NW were drooling over it. It hasn't leaked a drop, and it better not considering the price tag.
A couple of reasons I don't give it a five. One, please people-I see too many entry level tents here with 5 ratings, thats just silly. Two, if stuck in a storm with another person it would be a pain to cook in the vestibule. Three, it takes a while for condensation on the fly (which is attached pretty much permanately) to evaporate before you can pack it up. Bottom line is that this tent is an excellent product, but saving all that weight has its draw backs too.