Nallo GT
Item Details
|
Reviews
(
1
)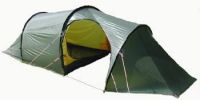 Manufacturer:
Hilleberg



This item may be available at:
Description
Available in three sizes -
2 person: $530.00
3 person: $ $585.00
4 person: $655.00
Our Nallo GT is the unchallenged master in the tent world when it comes to space and low weight! Its shorter poles in the foot end and the vestibule help with the intended weight reduction and the aerodynamic properties of this model.
Kerlon 1200, super-strong and light in weight, has opened new avenues in manufacturing tents that unite these qualities that until recently were only a wilderness traveller´s dream. The Nallo GT is an attractive option for people venturing into the outdoors with high expectations on their equipment coupled with low weight demands. This is accomplished without compromising the aspects of strength and safety.
Featuring the highest pole in the middle and lower poles at the ends provides room where it is needed most, reduces the overall weight of the tent and lets it shed wind well too. The different pole lengths are colour coded to facilitate easy and fast pitching.
Ventilation is boosted by pegging the foot end of the tent with the attached guy lines. Pulled taut, that end will come off the ground a few inches, providing a through draft to reduce condensation.
The Nallo GT works well for all kinds of activities in all seasons when a small packed size, low weight and trouble-free handling are the order of the day. This is a full size tent that allows adventurers to move swiftly in difficult terrain.
OUTER TENT FABRIC: KERLON 1200
COLOURS: GREEN AND RED
* Min. weight: 2.1 kg / 4 lbs 10 oz ~ Packed weight: 2.5 kg / 5 lbs 8 oz (Minimum weight includes inner tent, outer tent and poles while packed weight refers to the complete tent)
A complete tent consists of inner and outer tent with guy lines and runners, poles, pegs, stuff bags, spare pole section, repair sleeve and instructions.
* inner tent height: 40 in. ~ area inner tent: 30.1 ft² ~ area vestibule: 24 ft²
NALLO GT ADVANTAGE:
~ Outer tent fabric in Kerlon 1200.
~ Inner tent fabric in water repellent and venting nylon.
~ Strong nylon ground sheet with PU coating, high bathtub floor.
~ Pole tensioners wide enough for "double poling".
~ Pole sleeves with one opening only with room for "double poling".
~ Adjustable peg loops.
~ Full size no-see-um netting in inner tent entrance (with covering panel).
~ Spacious vestibule, extended by 65 cm / 26 inches for (wet) gear and the preparation of food.
~ Vent in outer tent can be closed completely.
~ Outer tent vent of water repellent and snow proof fabric under cover
~ Linked inner and outer tents pitch simultaneously – both can also be pitched separately.
~ Two strong guy line attachments and double line runners on each side of pole sleeve.
~ Clothes line and inner pockets in the inner tent.
~ Vertical inner tent entrance with full size no-see-um mesh.
INNER TENT: Pitching of inner tent requires extra pole holders - see accessories.
Nallo is a characteristic peak in the swedish mountain range of Kebnekaise
Equipment
Poles: Aluminum 9 mm dia.
Pole lengths: 1 x 120.1 in. (305 cm), 2 x 102.4 in. (260 cm)
Pegs: 17
Stuffbag, pole bag, peg bag, guy lines, line runners, spare pole section, pole repair sleeve, instructions.
1 Review
Review
Review by: clymber, 2006-01-18
bought it for a trip upto the Brooks Range in Alaska. Great tent and light weight and super easy to set up. Stake out the front and rear put in 3 poles and the tent and fly are up at once.I have the Nallo 3GT that has the larger vestibule its a bit big but for 3 weeks you need the xtra room to store gear out of the weather