Nammatj GT
Item Details
|
Reviews
(
0
)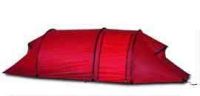 Manufacturer:
Hilleberg



This item may be available at:
Description
Available in two sizes -
2 person: $610.00
3 person: $660.00
Nammatj GT has got it all: low weight, tenacity in enduring the onslaughts of the worst weather and on top of that a vestibule which could cause a fit of agoraphobia. The best of all worlds are combined in this well-tuned symphony of tent qualities. A reliable shelter that pitches with ease, providing room not only to sleep, but in the extended vestibule also for the largest quantities of gear one may want and/or need. With its great versatility the Nammatj GT is ideal for those who expect properties like space and stability of their tent which are normally exclusive to larger and considerably heavier base camp tents. Fishing gear, five course meals, dogs? Not a problem.
In a test executed by the British magazine "The Great Outdoors" Nammatj GT was considered the "Best Buy" in comparison with similar designs!
You will be attracted by this tunnel if your requirements include low weight, ease of handling, robustness, good ventilation and of course space that does not restrain you from bringing home a few mates for dinner. The Nammatj GT will do it all: anytime, anywhere!
OUTER TENT FABRIC: KERLON 1800
COLOURS: GREEN AND RED
* Min. weight: 2.7 kg / 5 lbs 15 oz ~ Packed weight: 3.3 kg / 7 lbs 4 oz (Minimum weight includes inner tent, outer tent and poles while packed weight refers to the complete tent)
A complete tent consists of inner and outer tent with guy lines and runners, poles, pegs, stuff bags, spare pole section, repair sleeve and instructions.
* inner tent height: 38 in. ~ area inner tent: 30.1 ft² ~ area vestibule: 26 ft²
NAMMATJ GT ADVANTAGE:
~ Outer tent fabric in Kerlon 1800.
~ Inner tent fabric in water repellent and venting nylon.
~ Heavy duty nylon ground sheet with PU coating, high bathtub floor.
~ Pole sleeves with one opening only with room for "double poling".
~ Pole tensioners wide enough for "double poling".
~ Three poles of equal length.
~ Adjustable peg loops.
~ Full size no-see-um netting in inner tent entrance (with covering panel).
~ Very spacious vestibule for (wet) gear, meals, etc.
~ Vertical inner tent entrance.
~ Large, fully adjustable vent in foot end of inner tent.
~ Two large adjustable vents with no-see-um netting in outer tent.
~ Extended GT-vestibule with side entrance; entrance backed by full-size no-see-um netting.
~ Linked inner and outer tents set up simultaneously – both can also be pitched separately.
~ Two strong guy line attachments and double line runners on each side / pole sleeve.
~ Guy lines with line runners on vents.
~ Clothes line and inner pockets in the inner tent.
INNER TENT: Pitching of inner tent requires extra pole holders - see accessories.
Nammatj is the Sami name of a large rock standing at the entrance of a valley.
Equipment
Poles: Aluminum 9 mm dia.
Pole lengths: 3 x 115.4 in. (293cm)
Pegs: 20
Stuffbag, pole bag, peg bag, guy lines, line runners, spare pole section, pole repair sleeve, instructions.