No Permanent Address
Item Details
|
Reviews
(
2
)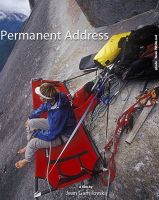 Description
"No Permanent Address" documents the first ascent of a 23 pitch free climb on a 2,700 ft. granite wall located in the remote wilderness of British Columbia. Sean Easton and Aaron Black team up for the first ascent of "Call of the Granite" all amazingly caught on film. The film follows Aaron for the 7 months prior as he climbs with friends in some of the most famous areas in North America such as El Potrero Chico, Hueco, Indian Creek, Bishop, and Yosemite. Watch as a cast of male and female climbers push themselves to their limits on everything from boulders to crack climbs. The film highlights life on and off the rock showing the tricks of survival in the real, inspiring, and sometimes shocking world of the modern climber. Behind every minute of footage are days of rigging and filming. The beautiful photography and up-beat soundtrack are sure to get you psyched to climb!
2 Reviews
Review
Review by: p0bray01, 2006-07-19
I enjoyed the Portero section and Indian Creek section the best. Great Vid.
Review
Review by: helette, 2006-01-31
[size=12]No Permanent Address
[b]Full Disclosure: The company that manufactured this equipment provided it free of charge to RC.com and RC.com then provided it as compensation to the reviewer for his or her review. This company does not currently advertise on RC.com.[/b]If you ever wondered what it takes to open a new 23 pitch climb, this film by filmmaker/producer Jean Gamilovskij will give you a good idea.The film centers around the two man team of Aaron Black and Sean Easton and their first ascent of "Call of the Granite", a 5.12, 23 pitch climb on a 2700ft big wall in the Eldred Valley of British Columbia. To add some flavor and variety to the film and to create some sense of appreciation for what it takes to tackle a project of this magnitude, Sean and Aaron's cleaning, drilling, bolting and hauling are interrupted by segments of Aaron training with his friends in some of the most famous climbing spots in North America during the 6 months prior to their first ascent. The transitions between segments are sometimes a little confusing and could have done with better introduction. Nevertheless, with some hard-core climbing and breathtaking scenery, these segments provide something for every kind of climber. The first segment in El Portrero Chico shows a number of climbers tackling the limestone. Even though there's some pretty good climbing going on here, the almost constant camera angle from the top makes this one a bit boring after a while and fails to truly portray the essence of the routes.The segment shot in Hueco focuses on bouldering and shows Merrick Schaefer working one problem - Mushroom Roof. His dedication inspired the rest of the team to such an extent that one of the camera men, Greg Foote, laid down his camera for a while to grace the viewer with his smooth, controlled style on an interesting problem on "Wicacala Cave".In Indian Creek with its awesome red walls, the focus turns to crack climbing. The tension thread of this segment is Jason Lakey's second ascent of "Brother From Another Planet". In between Jason's attempts to get past the uncomfortable roof on this route, the segment features a tough little French girl flying through "Slot Machine" and Aaron struggling through "Deseret Moon" with the wrong gear! After all the crack climbing Aaron goes to Bishop for finger training and once again there's some great bouldering here.In Yosemite Aaron tackles the multi-pitched "Begger's Buttress" with Kate Rutherford. Kate's struggle through the uncomfortable, narrow off-width crux leaves the viewer exhausted with her.The final segment of the film starts with the climbers each throwing a rock in the Great Lake as an offering to the valley before we follow them on their two day first ascent of "Call of the Granite".With an innovative opening, beautiful scenery, some exciting cinematography, a pulsating soundtrack, a nice variety of climbing styles and some fun excerpts of life off the rock, this film is a worthy addition to any climber's collection of climbing films. Jean Gamilovskij definitely deserves some praise for his first professional film.[/size]