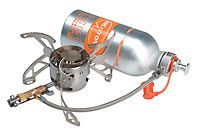 Manufacturer:
Brunton



This item may be available at:
Description
The Nova has received numerous accolades since its' introduction. From experience the stove packs small, burns well and simmers like a champ. It does need a windscreen, which is now available from Brunton. It is a shame it isn't reliable. I have experienced no less than two stove failures (two seperate stoves) that are directly attributed to poor quality control: bad needle valve seat and fuel coupler that would not close. Following is from Brunton's web site: Picture + "Our most honored stove sets the bar in the industry for performance, durability and quality. The precision simmering control helped it garner countless awards, while the ease-of-use made it a favorite among serious backpackers and outdoor adventurers. Built of stainless steel and brass, the Nova is unrivaled in its ability to cook like a stove should. Not only does this stove burn numerous fuels, it implements some of the most innovative technology in the world. The outcome speaks for itself."
2 Reviews
Review
Review by: waynebock, 2005-11-28
I have had nothing but great results...cleaning is a cinch. **Revised 11OCT2006 - The stove crapped out on me...tried to clean it, but still sputtered fuel...called Brunton, sent it in and they sent me a NEW one just like that! It still keeps the 5-biner rating...**
Review
Review by: f_thomas, 2005-03-23
Very poor quality control. Two seperate stoves:
Would not shut off. Needle valve seat bad
Fuel Line Coupler on Pump: would not seal causing fuel to flow freely from bottle. (Demonstrated at REI by accident with Nova fuel spill on Customer Service Counter)

Product manager for Nova stated that they have had to address this with the manufacturer. So, how many other problem stoves are there out there.