Nut Tool
Item Details
|
Reviews
(
1
)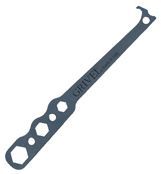 Manufacturer:
Grivel



This item may be available at:
Description
A long nut tool good for loosening set gear with extra reach over most of its competitors. The handle is also equipped with hex-holes for tightening loose bolts.
1 Review
Review
Review by: wildtrail, 2004-05-09
I dig it. I have mine tied to a piece of accessory chord and use it in conjunction (when needed) with a large Bugaboo piton as a hammer to really loosen those locked down passive pieces. Extra reach makes getting pro out easier and though it isn't as "beefy" as some of its competitors, it is a tough customer so don't worry about breakage. It also sports three different holes for tightening loose bolts.