Ocun Mystic, 60 x 10.5, std.
Item Details
|
Reviews
(
3
)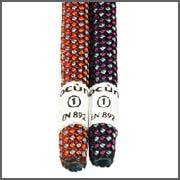 Manufacturer:
Ocun



This item may be available at:
Description
Affordable quality rope. For specs, click on the manufacturers website
Commonly purchased online through climbaxe.com
3 Reviews
Review
Review by: rockinrobby, 2004-04-10
I'm sorry , but I completely disagree with the two
previous reviews. One, it's twists, kinks and knots
so badly we knicknamed "Ivy". Two, I took a leader
fall 5 ft. above my last piece of gear and it stretched 25 ft. below my last piece of gear. It felt more like I was a bungee cord. I never used it for
trad after that. But, it is pretty.
Review
Review by: maculated, 2003-11-14
Great rope for it being cheap, but will need to be retired rather quickly. Good first rope.
Review
Review by: climbsomething, 2003-05-07
Inexpensive but hardly a spool of bailing twine. This supple rope has great handling and performs just as well as the pricier ropes.