One Move Too Many
Item Details
|
Reviews
(
1
)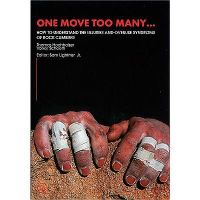 Manufacturer:
Petzl



This item may be available at:
Description
Aiming to empower climbers rather than disturb them, this book explains the nature and treatment of the bodily afflictions in order to provide insight
Covering areas like stretching, taping, nutrition, and traumatic injuries, this must-have climber's manual can help prevent injury and assist in situations where prevention was not possible
Dr.'s Hochholzer and Volker advocate care for one's body over the ultimate pursuit of climbing goals at the cost of of your future health
Written from a climber's perspective with a medical background, this comprehensive book addresses climbing-specific issues that would not otherwise be covered in first-aid manuals
229 pages with color climbing photographs and (thankfully) black and white photographs of injuries
1 Review
Review
Review by: swimming_dragon, 2005-03-14
Informative & worthwhile. If you like super tight shoes, check out the section in the book that shows you what they do to your feet. Also beware of the really graphic photos of tendons. Those of a squeamish disposition may wish to refrain from eating before reading this book.