Oval Biner
Item Details
|
Reviews
(
2
)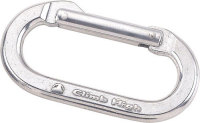 Manufacturer:
Climb High



This item may be available at:
Description
wt: 2.2 oz.
dia: 11mm
strength: 21kn (open gate 7kn)
gate opening: 17mm

2 Reviews
Review
Review by: mr_dirt, 2004-09-13
I grabbed a bunch of these for a steal years ago. I love em', almost my entire rack is made up of these, its sad I know.
Review
Review by: tyify, 2004-06-02
Aquired one of these as booty of a climb...The action is still surprisngly clean for how long it had been sitting out there. The weight is pretty light. A okay carabiner at a good price.