Palisade
Item Details
|
Reviews
(
3
)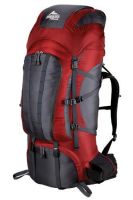 Description
A past recipient of Outside magazineís Best Value Rating, this classic long trail pack offers incredible capacity and load-carrying comfort at an amazing price. Maybe thatís why itís one of our all-time best sellers. This year weíve complimented the top- and bottom entry points with a zip-through front pocket that provides additional access to the main pack body.
3 Reviews
Review
Review by: fowler214, 2006-01-19
The price is way down from what it is listed as here and the bag is great.
Review
Review by: southbayclimber, 2005-07-07
Its a good pack, but the waist belt leaves something to be desired. Under heavy loads it chaffed and eventually rubbed the skin off my hip bones, but besides the permanent scares on my hips it really is a great pack.
Review
Review by: nathanial4, 2003-04-04
Excellent Pack! Extremely comfortable! Very versitile! Not too many frills or pockets which I like. Has exactly what you need.