Peak1 Apex
Item Details
|
Reviews
(
2
)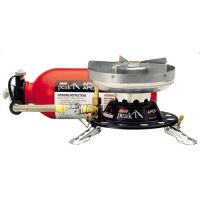 Manufacturer:
Coleman



This item may be available at:
Description
Taken from Coleman's website:

• Operates on clean burning Colemanฎ Fuel or kerosene with optional genertor (sold seperately)
• One fill up will last through a typical weekend of camping
• 22 oz. fuel bottle included
• Precise low-to-high flame control
• Low profile for added stability and wind resistance
• Fold-out legs and leveling screw adjusts leg position to help keep stove steady on uneven surface
• Service parts kit included
• Windscreen helps protect flame and doubles as a pot support
• Simple, quick set-up; no priming, no hassle
• Limited lifetime warranty
2 Reviews
Review
Review by: eudoraman, 2006-07-19
I have this stove for my crew, but i feel it isn't the greatest stove out there. I will openly admit that the Apex it a lot better then the regular peak1 stoves. I like how it is a bottle instead of cannister. if you have the choice of any coleman stove, i would recommend this stove over the older modeled stoves.
Review
Review by: coldclimb, 2004-11-13
Not a bad stove in any way. Packs up nicely, and is easy to get set up and cooking. One fuel filling lasts a couple of days, and it cooks nice and fast compared to others I've seen. The only reason I don't give it five is that it's not so great in subzero weather. Not bad, but just not great. Overall, definitely worth the money though.