Pocket Filter
Item Details
|
Reviews
(
1
)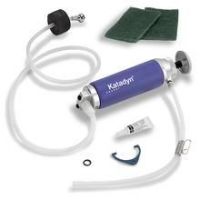 Manufacturer:
Katadyn



This item may be available at:
Description
This robust water filter made of heavy-duty materials is ideal for long-lasting continuous use--even under extreme circumstances. Re-designed with a comfortable pump handle grip and outlet tube for increased ease of use. Durably constructed for a lifetime of use. Removes particles, bacteria, cysts and parasites larger than 0.2 microns, including protozoa such as giardia and cryptosporidia. Comes with a brush to clean the pores of field-cleanable ceramic filter. Ceramic filter is silver-impregnated to inhibit bacterial growth inside its pores. Quick-connect adapter sends the filtered water directly into a NalgeneŽ reservoir. Case and cleaning tool included. Weight: 1 lb. 3 oz. Dimensions: 10 x 2 inches Filter medium: Ceramic micro-strainer Removes: Protozoa and bacteria Output: 0.86 liters per minute Pump force: 16.5 pounds Pump strokes per liter: 70 Field cleanable
1 Review
Review
Review by: mgoodro, 2005-05-07
The gold standard for water filtration. Solid, easy to use and easy to maintain. There are lighter filters now, but nothing can touch this classic in the realm of reliability. My only complaint is the price, but for a lifetime of dependable use it's a great value.