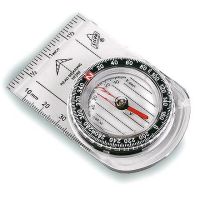 Manufacturer:
Silva



This item may be available at:
Description
This popular general-use compass offers superior performance at a modest price.
Base plate with contoured back fits large or small hands; features inch and millimeter scales for measuring and a lanyard hole for easy carrying
Fixed declination correction scale accounts for difference between magnetic and true north; scale is not adjustable as on some compasses
Red/black orienting arrow and lines make for an easy needle match
2-degree graduation lines are accurate and easy to read
Swedish steel needle with sapphired jewel bearing for free needle swing
1 Review
Review
Review by: dontfall, 2004-03-08
It will save your life if push comes to shove. Great little navigation tool, always carry it on you and make sure you know how to use it corectly.