Powerball
Item Details
|
Reviews
(
2
)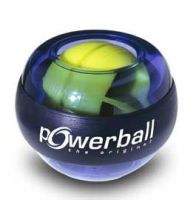 Manufacturer:
Powerball



This item may be available at:
Description
The rotation is balanced by computer and thus is absolutely precise. The axle is made of steel and does not break. The housing is made of durable plasic and does not break. Because of the grip band around the Powerball it does not slip out of your hand.
2 Reviews
Review
Review by: lucas_timmer, 2005-01-09
I think it's fantastic.It trains everything, from your shoulders to your fingers.And you can use it as a warming-up or a cooling-down.
Review
Review by: tallnik, 2005-01-08
This one gets up to 15,000 rpm, as opposed to some others which only hit 9,000 or less. Like the weight to it, great little toy. Blew my shoulder pretty hard a couple years ago, and this device is amazing at getting the rotator muscles, forarms, bi and triceps, wrist and fingers.