Quarter Dome UL
Item Details
|
Reviews
(
1
)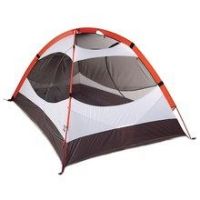 Manufacturer:
REI



This item may be available at:
Description
From REI's website: [quote]This freestanding tent with two doors and two vestibules is amazingly under 4 pounds, but doesn't compromise on durability and function.

* Designed for those who want to shed pounds from their pack and don't mind sacrificing a little elbow room

* Low, wind-shedding, two-pole design features two doors and two vestibules for super-convenient entry/exit and separate storage areas

* Dead End pole sleeves allow a nearly instant setup

* VELCROŽ brand closure attachment under the rainfly allows you to keep it attached to the tent for an even swifter setup

* Use of lightweight materials, combined with durable floor and pole sleeve materials, delivers a lighter tent with no worries about durability

* Upgraded lightweight nylon ripstop rainfly offers durability and weight savings; silicon treatment gives long-lasting weatherproofness

* DAC FeatherliteŽ SL poles offer a very high strength-to-weight ratio, plus they slide in and out of pole sleeves more easily

* Insider floor seams are engineered to create a nice, clean taut pitch and maximize floor space; factory seam-taping ensures a waterproof seal

* No-see-um mesh panels throughout and no-see-um mesh front and rear windows allow cross-ventilation, preventing condensation

* Strategically placed vestibule roof vent allows excellent airflow to prevent condensation; can be accessed while sitting inside the tent

* Rainfly rolls up and secures half-way open for extensive views to the outside; if the weather changes, it quickly and easily rolls down into place

* Color-coded rainfly corners allow easy orientation of rainfly on tent

* Leak-proof rainfly construction ensures that water won't sneak through susceptible areas such as guy-out points and zippers in wet conditions

* Attention to detail shows in the reflective guy points and zipper pulls, and adjustable REI Cleat Lock tie-downs on vestibules

* Comes with guylines and tighteners, stakes, pole repair tube, pole and stake bags and tapered, easy-to-stuff compression stuff sack

* Average minimum weight specification is based on tent, rainfly and poles only [/quote]
1 Review
Review
Review by: crotch, 2005-06-23
After living in it for 3 weeks through plenty of rain and some below-freezing nights, I can confidently say that the Quarter Dome UL is a [b]great tent that is extremely well thought out[/b]. With stakes and stuff-sack, this tent weighs in at right around 4lbs. I don't know of a lighter 2-person, 3-season, double-wall, free-standing tent on the market, and at $219 the price can't be beat, [b]but this tent is not for everyone[/b].


The roof vent really helps keep condensation away, and won't drip during rain if you pitch the tent with your feet towards the wind. The fly is seam-taped and pitches out drum-tight for minimum flapping noise in the wind, and is well separated from the tent body so you don't have to worry about keeping your sleeping bag away from the tent walls to stay dry. Plenty of guy-out options should keep Quarter Dome dry and standing under most conditions.

Little details show that this tent was well designed for long term habitation by two people. It has paired doors so that you won't have to crawl over your tentmate in the middle of the night to pee. In warmer weather the fly can be rolled back on both sides for great cross-ventilation. Two vestibules provide adequate and convenient storage regardless of which side you're on. There's enough headroom for two smaller people to sit facing each other for a game of cards on a rainy day.

The accessory pockets don't offer much utility and could stand to be improved. The small footprint makes this tent poorly suited to larger folks, or those who don't like to get up close and personal with their tentmate. You should definately get inside this tent with someone else and see for yourself whether it has enough space for you.

The Quarter Dome has a low visual impact due to subdued hues, which is nice in crowded areas, but suboptimal if you need to be found. The tent is next to invisible from the air. The light coming through the fly is well balanced and probably won't make you suicidal during extended stays, though your tentmate might. The fly would be improved with the addition of a transparent window.

Overall, this is a [b]fantastic tent for the light-is-right crew but should only be considered by smaller people or those willing to spoon[/b].