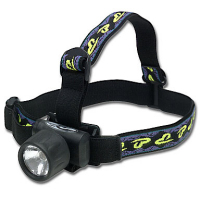 Description
The QUEST is a high quality waterproof headlamp maintaining all the durability characteristics of the #1 selling SOLO headlamp. Designed for the individual, who doesn't require all the extra features of the SOLO, the QUEST is a great choice for your next outdoor adventure or as a general everyday headlamp.
SPECIFICATIONS:
Power: 2 Watt
Burn Time: 8 hrs
Weight: 4.5oz w/batteries
Reflector: Focused wide beam
Bulb: Long Burn
Batteries: 2 AA (not included)
2 Reviews
Review
Review by: scubasnyder, 2004-12-25
pretty bright, lasts i think 8 hours on one set of batteries, lifetime warranty, good thing to buy for 20 bucks in my mind.
Review
Review by: cliffhanger9, 2004-01-05
not surre where they found it for 33 bucks....i ve never seen it for more then 19.99 but whatever...for 20$ its good - i also looked at petzl products but for the price to value ratio...this one won me over...primarilly because of its waterproofness. .i personally had some bad luck with this after about 2 years...the inside got all rusty but then again that was cuz i was using it like for underwater diving...hahaha (even so...it has a lifetime warranty so i'm gonna take it back and get another one :) )
but yea, for the money its good for caving, climbing camping etc.good lucky and rock on!!