Recta DP 10
Item Details
|
Reviews
(
1
)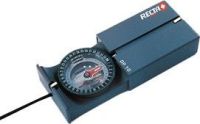 Manufacturer:
Recta AG



This item may be available at:
Description
The DP compasses are the original versions of the Swiss army compasses. A Noryl case, highly resistant, offers a strong protection to the capsule. It also features a cm scale, and provides sighting line of 11cm when opened. The underlying mirror allows very simple sighting with a high accuracy of 1°. The needles are rotating on a sapphire bearings in antistatic fluid. The DP compasses allows handbearing and mirror sighting. precision measurement of angles by prism-optical system (precision 1/3 degree)

adjustable declination scale clinometer

luminous marks

conversion table on the rear of the mirror scales 360°, 400 gon or 6400 mils

size (closed) : 67 x 45 x 22 mm weight : 57 g
1 Review
Review
Review by: overlord, 2004-06-11
This compas is SWEET! you have everything you could possibly want from a compass on it. its enables you to make really accurate angle measures with the prism, is easy to operate and can take abuse. has an angle meter and adjustable declination. the bad side its a bit costly at about 100$. but its worth it.

its so accurate that my scout team was able to cross a minefield in the dark (it was a night orienteering comp) without a tape measure (you have angles and distances for the safe path), a task we previously failed with tapemeasure and "normal" compasses. the judges were dumbfoulded.