Recta DP 2
Item Details
|
Reviews
(
1
)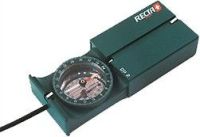 Manufacturer:
Recta AG



This item may be available at:
Description
The DP compasses are the original versions of the Swiss army compasses. A Noryl case, highly resistant, offers a strong protection to the capsule. It also features a cm scale, and provides sighting line of 11cm when opened. The underlying mirror allows very simple sighting with a high accuracy of 1°. The needles are rotating on a sapphire bearings in antistatic fluid. The DP compasses allows handbearing and mirror sighting. adjustable declination scale clinometer luminous marks conversion table on the rear of the mirror scales 360°, 400 gon or 6400 mils size (closed) : 67 x 45 x 22 mm weight : 55 g
1 Review
Review
Review by: overlord, 2004-06-12
This is your basic compass. Easy and quick to use, light and durable. in fact this was my first compass and i still use it. but i prefer DP10 model (prismatic). the good side of this compass is that you really get what you pay for.