Red Rock Odyssey
Item Details
|
Reviews
(
3
)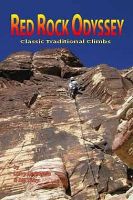 Manufacturer:
Other



This item may be available at:
Description
by Larry DeAngelo and Bill Thiry
From the earliest days, Red Rock climbing was about much more than jam cracks and varnished faces. The pioneers pursued their craft with boldness, imagination, and a sense of adventure. Present day climbers can enjoy a greatly enhanced climbing experience by getting in touch with their roots, and this book can help them to do just that. In Red Rock Odyssey we see detailed examinations of twelve classic routes from the 1970's. In each chapter we find the historical background and meet the people who were part of the first ascent. Though there is detailed route information, this is not a guidebook. The goal is complete immersion in the climbing experience: history, photographs, and real life accounts.
Purchase this book online at Verex Press
3 Reviews
Review
Review by: nnichols, 2005-09-29
I picked up this book at the Red Rock information center gift shop the day before Larry DeAngelo took me climbing. When I started reading some of the stories the night before climbing I though "what am I getting myself into?" Of course climbing with Larry was the highlight of my trip to Vegas. I finished the book within a couple of days and I highly recommend this book to anyone who enjoys climbing. The stories were wonderful, some made me laugh and some scared me! Enjoy and thanks Larry - I will not forget climbing Lotta Balls with you and John.
Review
Review by: flamer, 2005-09-25
An excellent read, whether you've already begun your love affair with The red orcks of south Nevada or not(and you will!) this book will let you see the real stories.
Review
Review by: vegastradguy, 2005-09-05
Full Disclosure: The reviewer paid full price for this product. This manufacturer does not currently advertise with rockclimbing.com

[img]http://photos.rockclimbing.com/photos//605/60527.jpg[/img]

[b]"Learn all you can about the history… of your area. You should be on a first name basis with some of the old guys who developed the crags. They will be around the campfire. Respect them and their wishes as your own."-- Travis Griggs[/b]

All climbing areas have a story, if you know where to go and who to talk to. Some are more famous than others, but they all have something to say and it's up to us, the newer generations of climbers to seek out these stories so that we can have a deeper understanding and appreciation of those who came before us. This is important; if we are to truly feel connected to the area in which we are climbing and also important if we choose to participate in creating the next chapter of an ever-evolving story.

Larry DeAngelo, author of [i]Red Rock Odyssey: Classic Traditional Climbs[/i], wrote his book based on this premise: that there was not only the original story to tell, but also something more; something intangible about each and every climb in the book. This book is as much about the people who pioneered the area as it is about the famous climbs they left for others to enjoy. To that end, Larry and Bill Thiry, put a book together that would capture the essence and the history of Red Rock climbing in the 1970s.

[b]"We may have been arguably foolish, but you see, when we were putting up these routes, we were trying to create something beautiful." – Joe Herbst and Randal Grandstaff, Red Rock climbers[/b]

This treasure of a book begins with an elegant foreword by Joe Herbst, a man who most consider to be the founding father of Red Rock climbing. Joe's "semi-lucid poetry" reads smoothly and quietly and by the time you are done, you are ready to begin the book -- that's right -- a foreword that must be read before you read the book itself. It's important to not barge into the middle of a quiet night filled with the memories of those who came before, so consider Joe's foreword your personal invitation to sit at this remarkable campfire and listen closely to the history that is about to unfold itself.

[b]"…the value of a climb is the sum of three inseparable elements, all equally important: aesthetics, history, and ethics." – Walter Bonatti[/b]

DeAngelo and Thiry were very careful in their selection of routes to include in the book -- and only 13 made the cut. Some, like Cat in the Hat and Tunnel Vision are classic Red Rock routes known the world over. Others, like The Snake Buttress and The Velvet Wall, are little known routes that are hardly ever climbed today. Yet, all of them have something in common -- they are all proud lines that go up prominent features in Red Rock, they were all originally done in good style, and all of them have a rich history that contributes to the beginning chapters of climbing in Red Rock.

The book begins with the story of the first and second ascents of a rarely climbed classic located at the far southern end of the escarpment in Windy Canyon, called Jubilant Song. Joe put the route up in 1971, and it was his first Grade III done with a partner in Red Rock (his first big climb in the area was a solo up the east face of Mt. Wilson)-- and the route was so good that he would recommend it to a young pair of climbers who came to visit him for Easter that year -- thus forming the basis for the second ascent. What follows is John Long and Richard Harrison's tale of their "Trial By Ice" on Jubilant Song in Red Rock in the Spring of 1972.

The tales in the book continue along a wandering path through the 1970s, covering the history and happenings around the area and pausing now and then to tell the reader what became of these famed climbers -- many of whom are still climbing today. Perhaps the most touching of these chapters is the one that covers one of Red Rock's most popular moderate routes -- Tunnel Vision. This chapter was written as a heartfelt tribute to the man that many considered to have put Red Rock on the map, Randal Grandstaff, owner and operator of the Sky's the Limit Guide Service. Sadly, Randal passed in a tragic accident in June of 2002.

After this, the book turns to other famous climbs like Solar Slab, Frigid Air Buttress, and Community Pillar. The reader is also introduced to some new faces, like Tom Kaufman, Larry Hamilton, Lee Stout, and most notably, George and Joanne Urioste -- perhaps the most famous of the Red Rock pioneers -- whose routes have beckoned to climbers the world over since they were put up by these two dedicated and tenacious climbers. Most of their more famous routes were put up after this book ends, but three of them made the cut -- Joanne's masterpiece, Cat in the Hat, Lady Wilson's Cleavage (where Joe Herbst joined the two for the first ascent) and Black Orpheus, which tells of Joanne and George's tumultuous relationship and their ability to overcome it to establish a classic line.

It is here, in 1979, that Red Rock Odyssey ends and it marks the end of the first era of Red Rock climbing. Yet it is clear that the story is not over. There is still much to be told about what came before, and hopefully one day another Red Rock Odyssey will begin, this time telling us about the next wave of climbers to spend their days deep in the canyons of the Red Rock Conservation Area creating something beautiful of their own.

[b]Author's Note:[/b] In the interest of being totally honest and forthcoming, I'll note here that while I originally read this book (several times) before meeting Larry, I am now his regular climbing partner and spend most weekends on the rock with him.