Redpoint Express Asymmetrical Runner
Item Details
|
Reviews
(
1
)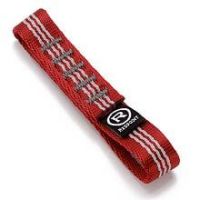 Manufacturer:
Other



This item may be available at:
Description
This runner features an asymmetrically sewn shape to help hold the 'biner out while you clip into protection. Durable nylon webbing is securely bar-tacked for increased reliability Runner is 19mm wide and comes in a choice of three lengths: 10cm, 15cm and 20cm. Made in USA. Weight: (10cm) 13.6 / (15cm) 13.8 / (20cm) 17.8 grams Strength: 22 kilonewtons
1 Review
Review
Review by: mgoodro, 2005-05-07
Light and cheap, good for replacement runners on draws. I picked up several 15 and 20cm units to replace the stubbies that came on my Trango draws. One complaint; I've seen a few of these vary in length up to 3cm which may speak for a lack of consistent quality control.