Redpoint Open Runner
Item Details
|
Reviews
(
2
)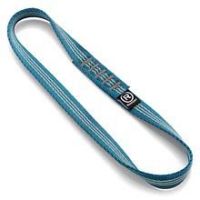 Manufacturer:
Other



This item may be available at:
Description
Open loop design is offered in three lengths for all-purpose use, including clipping into protection and serving as top-rope anchors. Sewn runner is 19mm wide; available in 25cm, 60cm and 120cm lengths. Weight: (25cm) 19g / (60cm) 49g / (120cm) 98g Strength: 22 kilonewtons
2 Reviews
Review
Review by: blake_wrinn, 2006-06-10
build anchors, extendable draws, gear sling. sewn runners are way less bulky than custom made slings out of cut tubular webbing but don't neccessarily come in the EXACT length you need. probally the best runner available for 3-4 dollars.
Review
Review by: mgoodro, 2005-05-07
Light and cheap, good as long runners or inexpensive gear slings. More convenient than webbing for some anchor setups, including TR. Also great for keeping biners and draws organized in a bag.