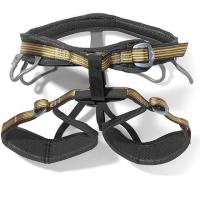 Description
- comfortable and ergonomic design
- mesh padded
- light weight
- adjustable leg loops
- moulded plastic gear loops
- removable rear stretch strap
- perforated waist belt
- rear reinforcement
- reinforced tie-in points
- haul loop

Intended to be used by all-round climbers as well as by occasional and weekend climbers. These people are demanding versatile product, and we know it. That is why Reggae harness was developed with respect to large variety of climbing activities. Buckles on leg loops allow you to adjust the harness for any type of challenge.
5 Reviews
Review
Review by: slcbongmaster, 2005-09-11
Comfortable, and the huge hip/lowerback belt disperses impact falls really well.
Review
Review by: treebeard, 2004-06-12
Very comfortable harness. The velcro does help in putting it on. The only problem I have is the front gear loops being a too far forward for my tastes.
Review
Review by: isaacct, 2004-04-22
Great product, great value.
Review
Review by: effigy, 2004-04-19
Found mine for $35.00. Velcro on the waist belt makes it super easy to put on. Very comfortable very convenient.
Review
Review by: dontfall, 2003-10-14
My first harness and it treated me very well. I had to retire it not cause of wear but cause that I can not fit into it anymore. This harness will take so much abuse. I have worn this harness for 8 hours straight and my legs were still very comfortable when I finally took it off. Excellent harness for all climbers, no matter what you climb.