Ridge Rest
Item Details
|
Reviews
(
3
)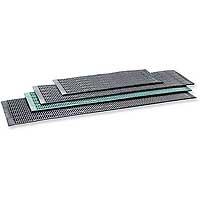 Description
mgear.com: Named for its pattern of ridges and valleys, Ridge Rest is warmer, softer, and more comfortable than other non-molded closed-cell foam pads. Itıs lightweight and light on the wallet. The standard Ridge Rest, made with laminated foam, is available in full-length and 3/4 sizes. The Ridge Rest Deluxe, made with a thicker foam laminate, is even warmer and cushier and comes in full-length size only. 20x72x.5 14 oz
3 Reviews
Review
Review by: flatstateclimber, 2005-10-15
I have had this sleeping pad for over 10 years. No worries about getting holes in it, deflating on you. Great insulation and, as long as the ground doesn't have any sharp roots or rocks, I generally sleep better on this than I do at home! I actually own 2 and keep one in my truck. Great for traveling light, I recently upgraded to a self-inflating pad for more comfort at the crag when car camping.
Review
Review by: wildtrail, 2004-03-20
Big bang for the buck. Definitely better than sleeping on the ground, the Ridge Rest will get you up out of the dirt and on cold nights help provide an insulation layer between you and the ground. For the price, you can't get a better sleeping pad.
Review
Review by: nathanial4, 2003-04-04
Great price for a good nights sleep. It does its job very well and will keep you relatively comfortable. Good insulation from cold ground!