Rifle: Climbers' Guide to Rifle Mt. Park
Item Details
|
Reviews
(
1
)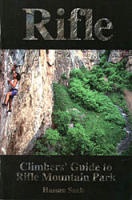 Description
by Hassan Saab; 72 pp.; The first and still the best guidebook to America's finest limestone area. With excellent topos, written descriptions, and historical information, this is the book of choice.
1 Review
Review
Review by: fredrogers, 2004-02-27
Not a bad guide but it's pretty out of date as of 2004. You could get better info from a free topo on the internet. The most current guides are by Dave Pegg, such as "Western Sloper".