Rino 110
Item Details
|
Reviews
(
2
)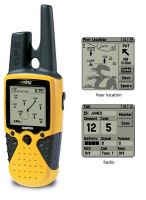 Manufacturer:
Garmin



This item may be available at:
Description
This winner of the 2003 Backpacker Magazine's Editors' Choice Award allows you to talk and transmit your location using GPS technology!
RINO--"Radios Integrated with Navigation for the Outdoors". Talk and transmit your current position to a friend with this patented GPS technology.
Fully functional GPS with integral radio provides two-way communications up to 2-miles using FRS channels and up to 5-miles using GMRS channels
Peer-to-peer position reporting allows one RINO user to send their current GPS position to another RINO user within a two-mile area
FRS channels 1-14 give two-mile range; GMRS channels 15-22 provide five-mile range (GMRS requires FCC Lic.)
Each channel has 38 sub-audible squelch codes for semi-private conversations
With a RINO, you can talk to friends who use conventional two-way radios
Unique Click Stick™ for channel and volume adjustment in FRS mode; quick map panning, enter and function selection in GPS mode
Quad-helix antenna with WAAS (Wide Area Augmentation System) enabled receiver can deliver amazing sub-3-meter accuracy
Follow your route, store up to 500 waypoints with graphic icons and 20 reversible routes; find your way back with TracBack™ feature
Trip computer calculates current and average speed, sunset and sunrise, trip time and distance
Weatherproof case keeps unit functioning in wet conditions, (waterproof to IEC 529 lPX7 standards)
Crisp, high-resolution display features four-level gray scale and more pixels for improved viewing; backlit display
Includes a built-in worldwide database of cities; 1 MB memory for additional "points of interest" from MapSource® POI CD (purchased separately)
Comes with handy belt clip and lanyard
2 Reviews
Review
Review by: chossdog, 2004-10-27
I own this unit and have found it to be generally useful for the kinds of glacier travel and mountaineering projects I have undertaken in the last several years. However I think it's a better GPS than a FRS-GMRS radio transmitter. In 2001 I used this unit to help coordinate the helicopter evacuation of a sick climber off Mt Rainier's Kautz Glacier route and at the time would have liked the transmitter to have had a bit more "poop". Conditions were line of sight and well within FRS range so I was disappointed that the transmitter was not as punchy as I would have liked. However the helo evac went off without a hitch and the climber recovered. For cold weather jaunts put lithium batteries in this puppy. It lightens up the unit to about 10 oz and works well in conditions below 0 F.
BTW, don't use this unit (or any other GPS for that matter) to attempt to negotiate an open crevasse field in a whiteout. No GPS is that good. Probe the area, wand your bivy site and hunker down until conditions improve.
Review
Review by: boz84, 2004-05-10
Garmin Rino Series, what can I say?

Except that they are an indespensible product for someone who uses both GPS and FRS/GMRS radios, cause ITS GOT BOTH!

Ive found my Rino to be exceptionally useful, not much heavier than a GMRS/FRS radio, but with the added functionality and reliability that comes from a Garmin GPS unit.

By far the COOLEST features of these units come when more than one member of a party has them, as it automatically broadcasts your location to other users whenever you transmit a radio message.
Depending on what kind of backpacking you do, this is indespensible.

The display is relatively easy to read, for a GPS unit of this ones size, and has a backlight for night hiking, although I have found that this wears the batteries (3 AA) down pretty quick, so BRING SPARES!

Navigating between the units many features and menus is relatively simple, and you may be amazed at just how much the unit can do.
It can even estimate (to some degree of success) sunrise and sunset, so you can accurately count how many more hours of daylight you have left.

Overall I think this is a great unit for those looking for both a reliable GMRS/FRS radio with a long range and a GPS unit that is easy to use, and extremely functional.