Robot Microflex Cams
Item Details
|
Reviews
(
5
)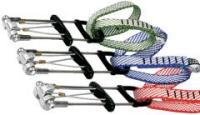 Manufacturer:
Rock Empire



This item may be available at:
Description
These cams now feature integral cams stops and Spectra slings! All of these cams have surpassed the rigorous demands of The C.E. and U.I.A.A. safety standards in Germany. This set of TCU's fit a size range from 12mm (.47") to 23mm (.90").
5 Reviews
Review
Review by: braxtron, 2005-05-02
Paris Hilton once said: "These things are hot!" Boy, was she right. I fell around 15' on a .25 and about the same on a .75, with both performing perfectly. As for drawbacks, I haven't had any of these walk, but I did get a .5 fixed (which was my fault for using a cam that was too big). I do recommend these little fellas for all your slim-crack-climbing needs.
Review
Review by: fo_d, 2004-09-05
I bought these to start my rack, they work smoothly, the extendable sling is great, they have good solid stops and you cant go wrong at this price.
Review
Review by: stick233, 2004-03-04
read my regular robot review... good cheap not BD though
Review
Review by: ropeburn, 2003-09-30
Robot TCU's are great. The lobes are just the right size and the profile is nice and narrow. The smallest sizes have somewhat short cables and getting to the triggers can be a little difficult. This is easily remedied by extending the triggers with short loops of tech line. These short comings aside I will still get another set of these as they are a great value as well as a great device.
Review
Review by: renobdarb, 2003-05-10
This would be a great starter rack for someone just getting into trad climbing. They are sold in the set of five Robots and/or a set of three Microbots, or the complete set of eight. They are well-built and economical for someone with a tight wallet looking for a whole set or just wanting fill out their existing rack. I've seen the whole set of 8 Robots/Microbots for as little as $200, and each individual cam goes for between $28-30. All cams have machined-in cam stops, and the action is smooth as silk. The coverage range isn't as good as other cams, and the larger sizes, specifically the #4 and #5, tend to walk a little. But beginners will love this set for the price, and they can fill them in with Camalots and TCU's later on down the road.