Rock Chalk
popular
Item Details
|
Reviews
(
6
)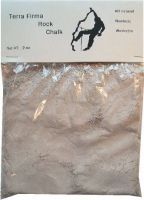 Manufacturer:
Other



This item may be available at:
Description
Rock Chalk is different from anything you might have seen in the way of colored chalk. It is not a complex combination of chemicals to create something new. Instead, it is magnesium carbonate (what you already use) blended with an all natural pigment. That's it! Functional chalk that removes chalk marks from rocks, keeping things more appealing to the eye for the public.
6 Reviews

Write your own Review


Read all 6 reviews
Review
Review by: tallnik, 2006-08-29
I have the fine powdery version of this chalk, and I too, find it feels somewhat slippery. However, this is no different from when I'm using extra fine metolious chalk. I'd be really interested in getting my hands on the new "chunky" versions of this chalk. I HATE seeing chalk all over a climb, and knowing exactly where to put my hands. In areas where there's shared use it can be a good way for us to lower our visible impact. I find the Rock chalk works almost as well as the metolius stuff, and perhaps the new chunky version will be a tie with metolius.
Review
Review by: gunksgoer, 2005-02-21
Rock chalk performed just like metolius chalk, but it didnt leave my hands quite as cracked and dry. one thing i came across was a guy using it in a gym because he got it for free. he liked it, but when he was done with his session it looked like someone had smeared poo all over the wall. o well. the only bone i have to pick with rock chalk is that it has the most unimaginitive name, but it works very well. it gets a 4.
Review
Review by: calvinclimber, 2005-02-19
Good stuff! The newest blend is not slick at all. Now getting the rest of the climbers to use it!
Review
Review by: cjstudent, 2005-02-15
I have been using rock chalk from terra firma since feb of 2004 and there is no going back. I have found, like mentioned, that it can be alittle on the slippery side, which i think comes from it being so fine. I think application method is key. I don't keep my powder chalk just loose in my bag, you waste too much that way anyways. I did the cheap chalk ball method, got a pair of panty hose and cut off the toe section filled it up with chalk, and tied a knot creating a chalk ball big enough to palm in my hand about the size of a tennis ball. then you throw alittle loose powder in the bag and voila, when you reach and grab the ball it seems to coat your hand better without the slipperyness. but this slipperyness that u speak of, i have experienced. on my hangboard i've been just dabbing on some of the chalk in pure powder form and found it was slick, which quickly prompted me to put it in pany-hose chalk ball form also.

no doubt, the best feature is the color. it truely doesnt leave much of a mark, and the available colors cover the rock spectrum pretty well. its not going to work good for tick marks but will help out the next time you climb in Zion or other places where colored chalk is required by law.
Review
Review by: maculated, 2005-02-14
I have to answer to J_ung's dismissal of the chalk. It's slippery, one way or another. We all generally use gymnast chalk, but on occassion we've had our hands in the soft, fluffy chalk of Metolious, too. While the colored chalk doesn't make your hands peel like Metolius, it is definitely slicker.