Rock Climbing New Jersey
Item Details
|
Reviews
(
1
)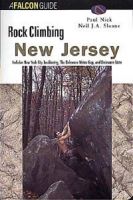 Description
by Paul Nick and Neil Sloane Price: $22.00 Pub. Date: 05/01/2000 Edition: First edition Binding: Paperback Page Count: 269 Trim Size: 6 x 9 ISBN: 1-56044-790-7 Publisher: Falcon Imprint: Falcon Scattered throughout New Jersey and just over the borders in Pennsylvania, Delaware, and New York are a variety of cragging and bouldering areas worthy of any climber's tick list. From the steep, multipitch routes at the Delaware Water Gap to the excellent bouldering in New York City's Central Park; from the roofy routes at Ralph Stover State Park to the basalt boulder fields around Princeton and Sourland Mountain; from the boulders of the North Jersey Highlands to the clean granite slabs of Allamuchy State Park, this book offers comprehensive coverage of the best climbing New Jersey and the surrounding areas have to offer. Rock Climbing New Jersey includes maps, photos, and topos complemented by clear written descriptions that will get you to the climbing areas and help guide you up the routes. Pertinent access information and trip planning tips complete the package to make this book an indispensable tool on your next Garden State climbing adventure.
1 Review
Review
Review by: cadaverchris, 2005-03-16
pretty much your only choice. good descriptions of routes, pictures and topos are only a 3 out of 5. Even though its a falcon book, the authors are old school locals- so that is nice to see.