Rock Socks
Item Details
|
Reviews
(
3
)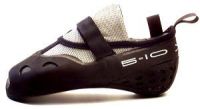 Manufacturer:
Five Ten



This item may be available at:
Description
The Rock Socks Velcro is built on an aggressive down-toe last which gives it great power for pulling across large roofs, standing on small edges and toeing into small pockets. The Velcro Rock Sock is more flexible than the lace-up since Velcro doesn't lock your foot into place, the way laces do. The Velcro also makes it easy to get in and out of the shoes quickly; perfect for all those times when laces are just too much of a hassle. The padded split tongue and sharp looks are an extra bonus.
3 Reviews
Review
Review by: crimperman311, 2006-03-08
Rock Socks are definitely worth getting if you can find them. I finally managed to find a pair of slippers on eBay and they fit really well. The slippers are kind of hard to get on because it has a very narrow opening, so it does end up being a hell of a work out just getting them on but once you do get them on they fit perfectly. I got them a half size down and they fit just right.
Review
Review by: sixleggedinsect, 2004-11-28
despite being discontinued, i regularly see rock socks in the used and consignment bins. i thought i'd pop in a review in case anyone was on the fence.

i have had a pair of the rock sock lace-ups, and the rock sock slippers. the lace ups and velcro shoes are essentially the same design. they are reasonably stiff, curved towards the toe for you crazy boulder/sport folk, and pretty serious. my laceups were very airy in the heel.

my slippers, however, were a glove fit for my feet. word on the street is the slippers were popular but discontinued because they were so ridiculously hard to get into. mind are a real headache to get into on a cold day, and easy on when warm. you fold the heel flat, push your foot in, and then peel the heel cup around the back of your foot. despite their intended use, ive used the slippers on all-day trad climbs and been comfortable. they are flimsy and sensitive, which may or may not be good for you. they fit me so well that despite their very tight fit they do not pinch me anywhere and remain comfortable. the only place i hate them is in hand cracks where they are too flimsy to feel remotely comfortable. my slippers have a tight heel cup and a different design than the laceups/velcro RSocks. and they remain my favorite shoes. 5.10 said the dragon is the closest match when it comes time to replace them.
Review
Review by: bwrobins, 2004-04-17
These were my first pair of none rental climbing shoes, and if I would have known how wonderful they would have been I would have purchased numerous pairs to last me because they are no longer being manufactured. If you run across a pair of these in your size take it as a God-send because they fit to your foot like a glove. Edge and smear great and have a rockin good heal hook going on. Do not pick up the lace ups or the slippers. I have tried them and compared to the velcro they are horrible on your feet. The velcro are very simple to slide on and off your feet between climbs... Keep a pair of sandles handy.