Rocks Set of 11
Item Details
|
Reviews
(
2
)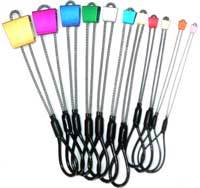 Description
Just about the same shape and size of the BD stoppers for much less. The Aluminum just about as soft making them bite in to the rock well.
2 Reviews
Review
Review by: tyify, 2004-05-18
Cheap and great! The price makes these babies an awesome deal. Have used more expensive BD's and felt no diffrence. I took a fall on the smallest one and it held me no problem. Also nice if you have to leave a couple because of their inexpensive price.
Review
Review by: geckoee, 2003-04-30
"Climb Axe Rocks" are a nice set of chalks! They place almost exactly the same as BD stoppers, and cost much less. There is nothing magic about them, but they are very solid.

So far I've just used them for Top Rope Anchors, but I would be just as comfortable doing a trad lead with these buddies as with any other set of nuts. I'm thinking about getting another set of these guys for doubles before expanding into more specialized chalks like the walnuts or Tri-nuts.