SELECTED CLIMBS IN NORTH CAROLINA
Item Details
|
Reviews
(
2
)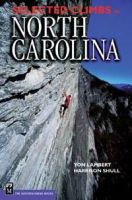 Description
Authors : Yon Lambert , Harrison Shull
ISBN: 0-89886-855-6
Pages: 320
Packed with 450 of the coolest climbs in 10 of the hottest climbing areas
Nail-biting action photos from professional climbing photographer Harrison Shull
Individual route descriptions feature 1st ascent background and more detail about the climbs.
This is the first totally new guide to N. Carolina since 1992. It is the first time that the climbing areas Rumbling Bald and Big Green have appeared in the same guide. It also includes totally new areas such as the North Face of Whiteside Mountain, Chockstone Chimney Wall in Linville Gorge and Middle Hawksbill.
Each chapter includes a separate history section and detailed directions
N. Carolina also has some of the best bouldering areas in the Southeast
Don't think of North Carolina for a climbing destination? Think again. Located in the southern Appalachians, intimidating granite domes, steep quartzite walls, and a variety of terrain offering short and long climbs will whet the appetites of beginning to more advanced climbers.
The 10 climbing areas are organized into three geographical regions: Piedmont including Moore's Wall; Stone Mountain; Crowders Mountain; the Northern Blue Ridge covering the infamous Linville Gorge-often referred to as the Grand Canyon of North Carolina; Ship Rock; and the Southern Blue Ridge with Looking Glass, Rumbling Bald, Cedar Rock, Big Green, and Whiteside Mountain.
2 Reviews
Review
Review by: saxfiend, 2006-02-02
With my first trip to North Carolina climbing coming up soon (Rumbling Bald), I knew I wanted a guidebook, and this one really fills the bill. The detailed history of how the various areas were developed is great reading. The route descriptions are nice and the topos are easy to follow. One thing I particularly appreciate is that while not all routes are listed in this book, the ones that were skipped are included on the topos. I look forward to getting to the crags with this book in my pack.
Review
Review by: forkliftdaddy, 2005-05-09
This guide has great history and beautiful photograps, but no approaches are detailed. Select guides are problematic, of course. Some good routes were left out. I mean, why aren't ALL of MY favorites in here? Oh well, so it goes. There are some mistakes, few are serious. There's no second bolt on Nuclear Crayon. In fact it's a bit run out there.