SRTE Explorer ascenders
Item Details
|
Reviews
(
1
)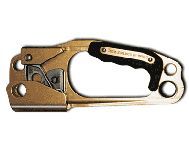 Manufacturer:
SRT



This item may be available at:
Description
SRTE Explorer ascenders are made from one piece extruded aluminium. The cam will not cut the rope under any circumstances. This ascender is designed for a maximum shock load of 900kgs before the cam will shred the sheath. The cam has a two way locking mechanism. There are ample holes in the body of the ascender for all manner of accessories to be clipped to it.
1 Review
Review
Review by: solonomad, 2004-07-20
These ascenders are awesome. They are designed to grab the rope without teeth so your rope does not get damaged with weight. The two-way locking mechanism is extremely helpful and provides more protection and security when in use. The shockload for these are 900kgs which is more than most ascenders and they can also be used to attach accessories to for storage. I like these a lot and will use them whenever I'm out. These are good for beginners also, as they are easy to use, not incredibly technical but they definately get the job done!