SRTE No Worries 200kgs rescue load belay device
Item Details
|
Reviews
(
1
)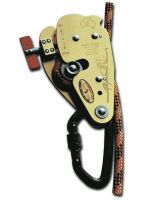 Manufacturer:
SRT



This item may be available at:
Description
The SRTE No Worries is guaranteed to arrest rescue loads of 200kgs without destroying the device or the rope. It can then easily be unloaded and rescue personnel can then continue down the rope. The device can be used for either belaying or descending. It is designed to slip down the rope at around 800kgs of load and is effective in reducing shockloading to rescuers.
1 Review
Review
Review by: niftydog, 2005-02-24
I trialed this before I bought a Petzl I'D (which is less expensive). It works great and is extremely adjustable, but it weighs a ton and is kinda complex. Took me a while to get my head around all the bits and bobs before I felt like I could try it out.
For large (rescue) loads, there's nothing that compares. I've seen tests that have all but destroyed all of the belay devices, except for this type of device from SRTE. Importantly, after the most strenuous of these tests (11kN shock load) the device could still be used to lower off. All other devices jammed under the same conditions.