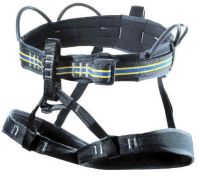 Description
A great harness with no compromises. The popular Saber comes with adjustable leg loops for added comfort.. The Saber features a fleece lined, padded waist belt and leg loops to keep you padded and to wick away sweat. The Saber also has four gear loops and a full strength haul loop. Constructed of top quality materials to give you a harness that will last for seasons to come.
2 Reviews
Review
Review by: karate_kid, 2005-09-20
Good, stiff harness with decent padding. Gear loops are basic as is the rest of harness. It is a little difficult to work with the buckle on the waist and especially with the legs. Overall though it is a cheap and well made harness that will last and is comfortable.
Review
Review by: descender, 2004-10-23
nice, cheap, and very comfortable, the price is great, the only fault; leg loops are a little hard to adjust.