Salathe Bivy Sack
Item Details
|
Reviews
(
3
)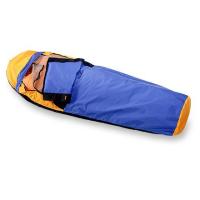 3 Reviews
Review
Review by: fanederhand, 2005-05-16
Great product at a nice price. for a simple, light weight bivy the wire screen is a nice feature. I used it in fare weather and light snow (sub zero) and it perfomed great. Not sure I would want to be in a rain storm with it. but for alpine accents in the snow ... thats what it is made for and it is just the ticket if traveling light is what you want.
Review
Review by: hosh, 2004-02-22
It's a pretty decent, but it's a little to big for me. I like the Bug screen, I don't think I'd ever buy a Bivy without one again. The bendable wire frame is really nice. I don't like things on my face when I sleep. I slept in mine burried in snow once and woke up dry. (at least dryer than I was when I went to sleep...) I'd recommend it if your'e in the market for a Bivy, but make sure you shop around. The Minimalist Bivy by REI looks nice.

Edit:

I've since gotten my hands on the Bibler Big wall and that is a MUCH better bivy. The opening on it is a little more snug than on this one, but it's much more secure and dry.
Review
Review by: adeptus, 2004-02-19
A very good bivy bag. Ideal for bigwall and alpine climbing. Itís completely waterproof, so it can get a little moist on the inside, because of perspiration from your body. Unlike normal bivy bags you can sit up and eat even when the rain is pouring. Great bag for light weight climbing.