Saxo Aqua
Item Details
|
Reviews
(
0
)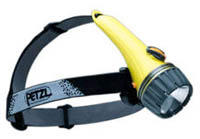 Manufacturer:
Petzl



This item may be available at:
Description
It is a completely waterproof headlamp. Like the Saxo, it becomes a torch in an instant by unclipping the elastic strap, but also has an upper strap giving greater stability.Its krypton bulb gives a very white light and the hammered finish of the reflector gives a particularly even light beam. The Saxo Aqua is fitted with a locking switch so there is no risk of it being turned on in your pack.
IMPORTANT NOTICE
PETZL Product Recall: Saxo Aqua - E39
Recent testing has shown that gaseous emissions from defective batteries may cause a minor explosion of the Saxo Aqua, presenting a risk of injury to the user.
A gas absorber (catalyst) installed in the bulb holder can eliminate this risk.
To replace the original bulb holder by the new bulb holder fitted with the gas absorber, you may:
- Replace the bulb holder yourself by ordering the bulb holder. It is very easy to do the change. Instructions for replacement are included with the replacement part.
or
- Send your lamp directly to the Petzl distributor in your country. It will be returned to you as soon as possible.
For further information, contact Petzl directly.
The replacement bulb holders are supplied free of charge. Reminder on SAXO AQUA precautions: batteries must be removed for long lasting storage and transport. Please refer to the technical notice with attention.