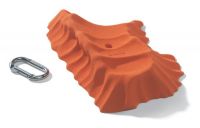 Description
This hold is one of the coolest new holds in our line. Now's your chance to test our Scapula with a heel hook or a lay back! The super-positive edge provides numerous slots for you to sink your fingers into for maximum variability in grip and great places to rest your heel as you "rock on".
1 Review
Review
Review by: redpointron, 2004-04-19
the whole jurrasic series from nicros is cool and this hold is by far the best. i have it on a 30 degree overhand and it can be made more difficult based on it's orientation. good to match hand to foot (heel hook). i believe nicros is now making this hold in exteme hold technology -- very light.