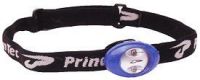 Description
The term "Ultra-light and compact" is re-defined with the introduction of the new Scout headlamp. Offering waterproof integrity and weighing approximately two ounces, it's small enough to fit into you pocket and forget it's there. The unique multifunctional hinged lamp housing directs light where you need it, and is designed to detach quickly and easily from the lightweight head strap for use on you cap, backpack strap, belt and other gear. Powered by 4 tiny lithium coin cell batteries, the Scout offers burn time up to 30 times grater than incandescent AA or AAA cell headlamps. Engineered to last a lifetime, the illumination comes from 2 high output light emitting diodes that are impact resistant, shockproof and never require replacement -- ensuring you'll alwasy have light when you need it. Just like our best selling headlamp the Aurora, the Scout also sport the innovative electronically controlled switch system which provides easy switching between 3 levels of light output and two emergency signaling modes. Buy more than one -- when your friends set their eyes on this baby, it's as good as gone.
1 Review
Review
Review by: scubasnyder, 2004-03-01
This is a decent head lamp for having only 2 led lights. It works good for walking at night or even climbing, only draw back is you can get the aurora for a few bucks more and its a lot better.