SealSkinz-WaterBlocker
Item Details
|
Reviews
(
2
)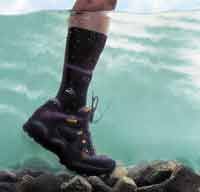 Manufacturer:
Danalco



This item may be available at:
Description
Advanced Waterproof Protection
SealSkinz® socks have a patented fabric structure of three highly engineered layers including a membrane capable of allowing perspiration to escape while not allowing water to penetrate. Each sock is high-pressure tested to make sure there are no leaks.

Care
Hand-wash and drip-dry for the greatest longevity. Do not twist or wring. Or machine wash on low temperature and tumble-dry on low. When machine drying, reverse socks halfway through

These socks are fully Immersible
2 Reviews
Review
Review by: scubasnyder, 2004-11-01
These were great when i first had them but eventually the material inside bunched up in the heel and was uncofortable and eventually they leaked, I now have a Gore-Tex sock made by rocky footwear that is much better.
Review
Review by: russman, 2004-02-10
Review from a member of a North Georgia Adventure Race Team:
I wanted to thank you again for your support by providing my team with SealSkinz gear. Ufortunately the gloves were backordered but
the socks were invaluable. I worn them the entire race.
The started with a paddling section and I wore with my boat shoes which basicically is like wearing the socks exposed to the elements. For four hours my feet were in the water in the bottom of the boat or completely submerged when putting the boat in the and taking it out. I usually change socks after a paddle section but my feet felt dry and comfortable and I thought why change. I switch to my mountain biking shoes and started off on a 40 mile offroad trip in the rain. My feet never felt wet or cold even on long downhills where the wind usually makes my toes numb. Before heading off on the trek I decided to change out to another pair of
SealSkinz socks. When I removed the pair I had been wearing for the last 12 hours I was pleasently surprized that my feet were in great condition.
Usually after that kind of wet exposure my feet look like prunes and are suseptable to blistering because they are so soft from being wet. Not the
case here. Those socks were terriffic. I can't thank you enough for providing them.

Cheers, Mark