SealSkinz All Season Socks
Item Details
|
Reviews
(
1
)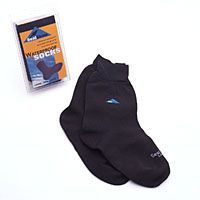 Manufacturer:
Danalco



This item may be available at:
Description
Advanced Waterproof Protection
SealSkinz® socks have a patented fabric structure of three highly engineered layers including a membrane capable of allowing perspiration to escape while not allowing water to penetrate. Each sock is high-pressure tested to make sure there are no leaks.

Care
Hand-wash and drip-dry for the greatest longevity. Do not twist or wring. Or machine wash on low temperature and tumble-dry on low. When machine drying, reverse socks halfway through.
1 Review
Review
Review by: russman, 2004-02-07
This review is from a soldier who has used these socks oversees:

I was the 10th Mountain Division CSM during the division deployment to
Bosnia. We were shipped a group of your socks and asked to share them with
the soldiers. We sent them out throughout the division. The comments that
I received were all favorable. Soldiers stated that they were excellent
and made a difference when pulling guard duty and patrols while in cold,
wet conditions. Soldiers stated that during long hours in leather boots
that the SealSkinz socks protected their feet from the cold and moisture.
I was highly satisfied with the ones that I wore and still continue to
wear today. Thanks for your great support to soldiers.

CSM TEDDY E. HARMAN
FIFTH US ARMY COMMAND SERGEANT MAJOR
HEADQUARTERS, FIFTH US ARMY