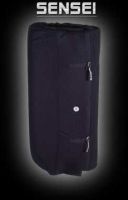 Description
Super lightweight, innovative design, and very durable. Great for circuits and beginners.
36" X 54" X 3"
Holds 500 cubic inches of carrying capacity.

3 Reviews
Review
Review by: tblackfo, 2005-10-14
The biggest piece of s$%t I have ever owned. The design (aka the roll up methond) is horrible, and the padding didn't last long at all. Buy something else.
Review
Review by: katanaman, 2004-04-10
I got this pad for a decent price and it performs great. I've taken some decently high falls, probably 15 feet and it absorbs most of the impact. Great crash pad for any one starting out. Shoulder straps are decent and you can store ALOT of gear inside the pad.
Review
Review by: organic, 2003-04-04
Great bouldering pad nice shoulder straps and can fit tons of gear inside so you can lug around your rope and shoes also. Very durable have had no problem and nice soft landing.