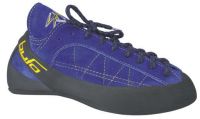 Manufacturer:
Bufo



This item may be available at:
Description
In this case, "There are no other fish in the sea"! The Bufo Shark features a bomber sole, synthetic inner lining, premium suede leather uppers, comfortable low cut heal and full traditional lacing. It all adds up for great edging, maximum foot support, comfort and durability. An exceptional all round and all day shoe, great for multi-pitch routes and beginning climbers.
2 Reviews
Review
Review by: sixleggedinsect, 2004-11-28
I bought bufo sharks to be my second shoe, to spare my nice pair the rigors of plastic and long cruiser routes. i ended up using them for almost everything, no matter how hard i was pushing. the sharks, when i bought them in 2002 (i think) were one of the bufo models that did *not* cut into your achilles tendon behind your heel. the rubber is excellent, IMO. ive tried a lot of other brands, and like the bufo rubber better than scarpa and 'free climbing' (a spanish import) rubber. honestly, i coudlnt say that the 5.10 C4 is any better, although i havent really compared them properly. long story short, this is a solid shoe for all-day trad, in my book. sort of middle range for everything- smearing, crack, edging, and plenty comfortable. the price is right, although with the large numbers of competitors making cheaper shoes the bufo price may not make them stand out anymore. evolv shoes spring to mind as a well-received alternate in the same price range.
Review
Review by: rockn_j, 2004-06-24
I really like my Sharks. They stick like crazy when smearing. Though they are not super sensitive, they give you a fairly good idea what your feet are up to. I would probably recomend them for long medium grade climbs, as they perform well on face climbs but won't make you feel you HAVE to take them off at every opertunity. Also, They dont stretch much as they are lined. So, be carefull of buying them too small