Shelf Road's Cactus Cliff , Spiney Ridge & the "new" Gym
Item Details
|
Reviews
(
2
)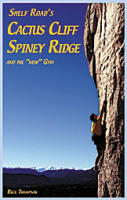 Description
by Rick Thompson; 40 pp; This is the only guide available to the plethora of new routes on these newly opened crags, Author Rick Thompson is responsible for many of the the 130+ routes on these limestone walls.
2 Reviews
Review
Review by: fredrogers, 2004-04-29
Great guide but covers only the popular Cactus Cliff area. You'll need Fred Knapp's or Mark Van Horn's guide to cover other excellent Shelf areas like the Bank or the Gymnasium.

Rick is supposed to be issuing a second issue of this guide in 2004.
Review
Review by: tradkelly, 2003-04-19
It's the best product out there right now showing Cactus and Spiney. I'm waiting to see what CT's photo-pano guide (www.climbcolorado.net) looks like when it comes out, and it's been a couple of years since SE put out this guide's latest revision. There are new (and quality) routes not shown in the guide, and several of the (harder) routes have been rebolted and anchors enhanced for safety. Putting out a guide is a heckuva lot of work, but it's time to update what's out there.

The climbs are shown on hand-drawn maps, and are very clear. The only thing that I can think of to help this volume would be a couple of photos of major formations/clusters of climbs (to help orient to the proper climb while on the ground) and an overall panoramic view of the cliffs (from the lower road, or on top of Dark Side) to show where each area is on the cliff.

Overall, an excellent guide, and by far the best to anything at Shelf Road. --tradkelly