Sidewinder
Item Details
|
Reviews
(
1
)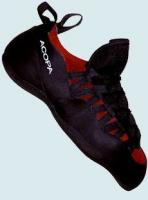 Manufacturer:
Acopa



This item may be available at:
Description
Have you ever wondered what it would be like to dip your foot in rubber and go climbing? If your answer is yes, then you need to try a pair of Sidewinders. There is absolutely nothing on the market like this shoe. We came across this shoe idea when we began molding climber's feet to obtain the "perfect" geometry for our traditional last shapes. In the process we built shoes directly on the molds and discovered something very interesting – we could utilize rock features that a normal shoe couldn't even touch! If you have a square peg, then you search for a square hole. We do this every time we wear flat soloed shoes yet we normally don't think about it. We guarantee if you try the Sidewinder it will revolutionize your footwork forever! Extreme Sport Shoe Built On The First True Foot Shaped Last Anatomically Shaped Inside And Outside Edges Tensioned rubber Mid Sole and Arch Anti-Stretch Lacing System Comfortable Padded Mesh Tongue Unlined Leather Uppers 4.2mm Acopa RS Rubber Contoured Rand ~1.1 lbs. per Pair US size 3 thru 13
1 Review
Review
Review by: chanceboarder, 2006-10-30
Another awesome shoe from Acopa! I've been climbing in the Spectres and B3's for almost a year now and have loved them. I picked these up a couple months ago and have been testing them out at various locations. These are a VERY specialized pair of shoes. They're not a great all around go everywhere do everything kind of shoe in my opinion. The new last shape makes them perform amazing on rock and features that are bumpy and knobby with lots of sloping edges small nubs. I find them equally at home on steep pockets and slaby features. I do feel that they lack in performance when it comes to edging on very small micro edges as well as flat straight edges. The traditional flat shaped shoe last I feel performs much better on these types of edges. If you happen to do most of your climbing at an area with very flat small micro edges another shoe my be better suited for your needs. But if you happen to climb at any area with sloping edges, weird shaped knobs, pockets, or any time of irregular foot holds then I think you'll be able to see the maximum performance of these shoes. These shoes have such a unique last shape that even experienced climbers will find them different to climb in. It does take time to relearn your foot work with these shoes and learn just how to use them but I think the time and effort put into it will be well spent and have a nice pay off. Construction is well done, rubber is better then stealth (in my opinion), and made to fit more of a medium to wide foot. Acopa is awesome!