Single Wide Boulder Pad
Item Details
|
Reviews
(
8
)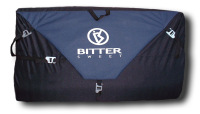 Description
Never has a crash pad been developed that will treat you oh-so-good. The SingleWide is 3" of firm delight. Bitter Sweet engineered this pad to take most any fall, using a dense, 1" closed cell top layer of foam that distributes falls evenly to the 2" open-cell foam layer. the foam holds its shape and last through the use and abuse. Bitter Sweet has developed the unique triangle closing system which allows you to store the gear you will need with out over stuffing your pad. The pocket will hold shoes, chalk bags, or anything else that comes with your trip. With a 3.5' X 4' landing area, heavy denier outer, metal buckles that won't break when stepped on, and a price that can't be beat, this will be the new standard in boulder pads.

- Bitter Sweet website

8 Reviews

Write your own Review


Read all 8 reviews
Single wide boulder pad
Review by: climbnpuke, 2006-12-20
This pad is great!!! awsome price and great foam for a big fall.
Review
Review by: superbum, 2005-09-19
Horrible crap! I would love to build a time machine and go back to BEFORE I bought this pad and stop drinking before I got to drunk to notice all the horrible flaws in the design. I even got it for a great deal.

Flattened out w/in weeks. Heavy. Broken buckles. Flap gets in the way. Doesn't cinch down tight and heavy stuff falls out. Seams blew out w/in a month. All straps have ripped off and sewn back on by me. Metals buckles falling off and getting lost. Cheap lame-ass shell material=multiple gigantic rips

I do like the plush landing surface though...
Review
Review by: davisjl1979, 2004-09-06
Nice pad with a few nice features. I like the metal buckles and the large storage pouch, that also doubles back to protect the backpack straps. I definitely recommend it. Oh yeah and it's priced right. Got mine for $139.00 with free shipping.
Review
Review by: theying, 2004-06-09
As an occasional boulderer I find this pad to be perfect for my needs. Its affordable and functional.
Review
Review by: littlebrother, 2004-05-25
Very good product, similar to the cordless d-lux crashpad. I found that it wasnt constructed as well as the d-lux, but offers very good protection. An excellent pad for the money. I especially like the large pouch for storing those unloseable items.