Skypilot 10.3
Item Details
|
Reviews
(
1
)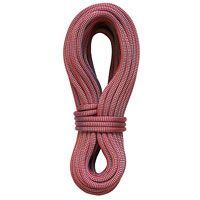 Manufacturer:
Edelrid



This item may be available at:
Description
Whether mountaineering, canyoning or caving, the rope is the single most important element in the safety chain and has to fulfill a wide range of demands. EDELRID has had over 100 years to perfectly fine-tune the interplay between a ropes individual characteristics. The high standard of EDELRID products is guaranteed by continuous development, field tests and with the help of the latest laboratory technology. [list] [*] 10.3mm diameter. [*] UIAA test fall rating of 8. [*] Rated to an impact force of 9.3kN. [*] Weight of 66g/m. [*] Available in 50 and 60m lengths. [/list]
1 Review
Review
Review by: fstep, 2004-12-25
This was definitly the cheapest rope there was at the store. I was a little hesitant in getting it when it first came out yet was automatically atracted to it bc it was so cheap. "What's wrong with it?" I thought. It turns out that its amazing especially for gym use. (I think half the ppl at my gym have one now) It works really well smooth with a gri gri.